Acceptance doesn't, by any stretch of the imagination, mean passive resignation.

Quite the opposite. It takes a huge amount of fortitude and motivation to accept what is – especially when you don't like it, and then work wisely and effectively as best you possibly can with the circumstances you find yourself in and with the resources at your disposal, both inner and outer, to mitigate, heal, redirect, and change what can be changed. – Jon Kabat-Zinn
There is no doubt that we are living in difficult times. Whether directly or indirectly impacted, our exposure to disasters small and large is increasing at an alarming rate. As I write this, bushfires are burning out of control across our region and many homes and sadly some lives have already been lost. Who knows what Summer will bring…predictions already suggest it wont be rain.
For the last 10 years I've had a heightened relationship to disaster. It's ranged from an absolute aversion to almost a fixation. A quest if you like, to learn, understand and recover from my own personal experience in the 2003 Canberra Firestorm. If you are quick to do the math, you'll realise that was 16 years ago. It seems strange to say but for the first 6 years I didn't think about it much. On some level I just accepted what had happened. Without warning or any official notice to evacuate, we witnessed a wall of fire burst through the pine forest across from my parent's home. It destroyed over 500 homes in it's path, their's included, reportedly all within 4 hours). I'd catagorised it as an unfortunate event that we were lucky to survive.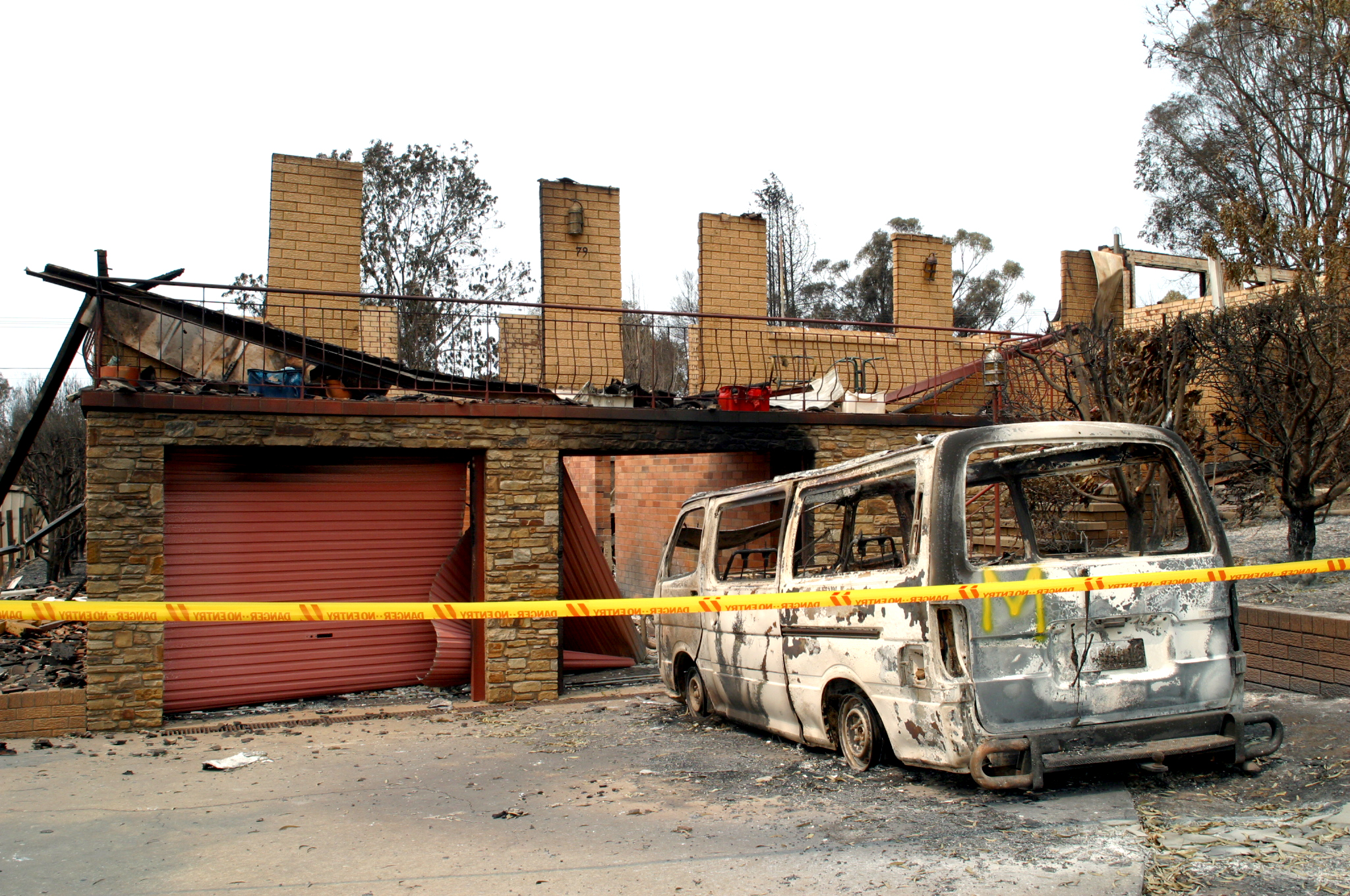 My own home nearby was ok so somehow I formed the idea that it didn't really happen to me. That was until I started to write a book about our experience. I started researching and reading newspaper articles. I found 45mins of unedited footage on youtube, much of which featuring the street we were on. I watched it over and over as pieces of that day started coming back to me, as well as new information coming to light. Somewhat dramatically, I was thrust into full blown PTSD. Nightmares, flash backs, hyper-vigilance. The memories and trauma that had been neatly stored in my brain somewhere were unzipped and I found myself re-living the experience daily. All exasperated by new information of what had gone wrong in the lead up to and on the day. The firestorm was not the only trauma I've experienced but it did become the main focus and take several years of work, on many levels, to resolve. Thankfully, I am now symptom free and living proof that it is possible. The current situation, while not comfortable is not paralysing me as it would have been in the past.
Life doesn't stand still when things happen…there is no pause button to give us a chance to catch up and new things happen which can add to the load. Along side of this advances in technology, communications, and understanding of how these events and trauma impact our brains is ever improving. Even just the last couple of years has seen a dramatic improvement in online disaster recovery resources. Whilst each person's journey is unique there are aspects and phases that are highly predictable. The good news is that with awareness and understanding long term challenges such as I experienced can be avoided.
Education is key and my favourite go to has been clinical psychologist Dr Rob Gordon, who has worked for almost 35 years in the area of trauma, disaster and emergencies. He has been closely involved with the recovery efforts of many individuals and communities as well as the creation of material for the Australian Government, the Red Cross, the Salvation Army to name a few. He has some potent advice for all of us in these times, not just those impacted by disaster…
Keep the focus of what makes life precious and meaningful.

The things that you can not replace if you loose them.

Your marriage, your relationship with your children, your career, your recreational pursuits/hobbies/enjoyments, your social networks.

All of these things that make life worthwhile. – Dr Rob Gordon
Not long after our bushfire escape, my Mum had a massive stroke. At the time we didn't know how serious it was but as she aged she experienced memory challenges and we later found out the damage was significant. Along side of this, 18 months after the fires my Dad was diagnosed with lung cancer. Sadly, 9 months later he passed away. I've always felt the massive shock and grief of the fires contributed.
Recently, when I had to sort through the mountain and strange collection of stuff that my Mum had accumulated in response to losing everything, I found a small business card from the ACT Bushfire Recovery Project. I turned it over and was pleasantly surprised to see my Dad's unique hand writing. Interesting, I thought. I looked at the card in my hand and Dad's writing wondering what could have been so important that he would have jotted it down…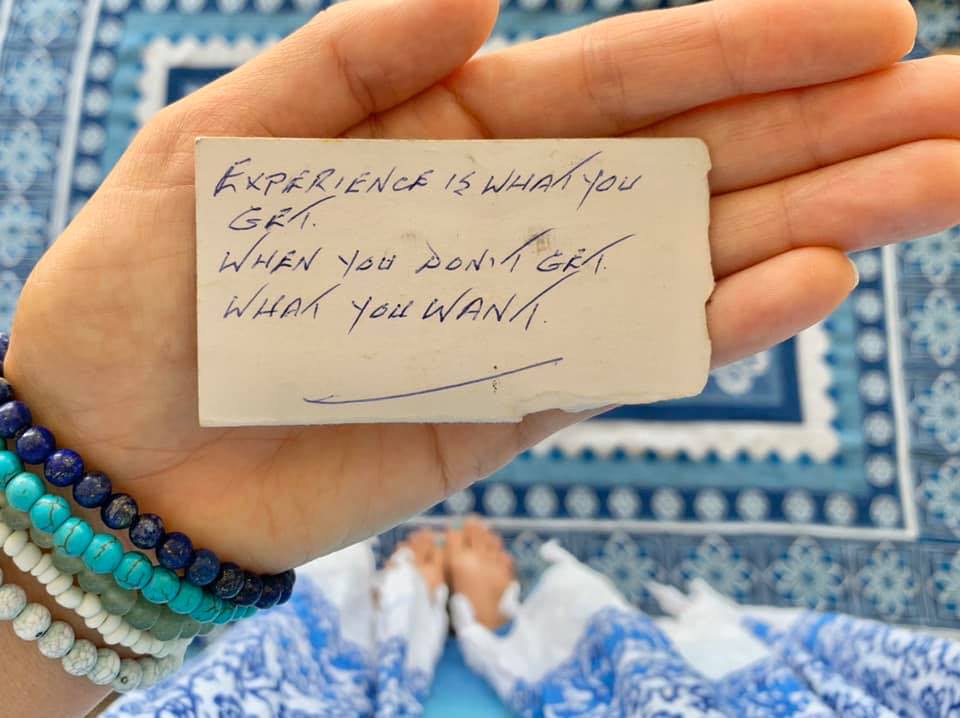 Experience is what you get when you don't get what you want…I stood there alternating between sobbing and smiling at Dad's message from heaven. Everything I'd been through flashed before my eyes. As too all the things I'd wanted for my life, that were de-railed by the disaster. On many levels I have not got what I wanted at all, but I have gained A LOT of experience. I can not deny that I am more resilient, compassionate, wise and determined than I could have ever imagined. In that moment, I somehow accepted it all.
Acceptance doesn't mean we agree with or condone things as they are. It means we are real about them and willing to take responsibility for the situation we find ourselves in. In the face of increasing disasters all around the world, and leaders yet to even acknowledge climate change, we must accept that if anything is to change the responsibility is in our own hands.
Every choice matters and even small changes in our own homes and lives will make a difference.
Most importantly, once we reach a level of acceptance, it creates space for hope. Hope for a future of our own choosing. I'm not giving up on mine and I pray you don't give up on yours…we are all in this together.
Learn more about my disaster survivors project at: www.herecomeshope.com