Glittering Tihar Blessings…
This time of year I am always brought back to fond memories of time I spent in Nepal in 2008.
My brother had been living there for a few years and we stayed in his apartment above a family's home.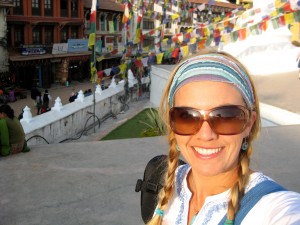 We were there during the time of Tihar or Diwali also known as Deepavali and the "festival of lights" and were invited to join the family's ceremonies & celebrations.
Tihar is a five day ancient Hindu festival celebrated in autumn every year.  The festival spiritually signifies the victory of light over darkness, knowledge over ignorance, good over evil, and hope over despair.
Tihar and Laxmi Puja (3rd Tihar Day) – One of the most important days of the festival is Laxmi Puja on which day the Goddess of wealth (Laxmi) is worshiped in every household in the entire Nepali Kingdom by means of Puja, decoration, candle lights, and oil lamps.
In this 3rd day of the Tihar Festival, the entire nation becomes an illumination of lights.  Pictures and icons of Laxmi Devi (Goddess) are placed and worshiped in a Puja room (or a place in a living room or a dedicated room for worshiping Gods) Puja is performed using flowers, incense, oil lamps, color-powders, bell and money (both notes and coins).
Laxmi puja is performed at dusk using red mud, and puja is often done by a female in the family.  She uses her hand covered with red mud to make a symbolic foot-print on the floor entering the home and makes a trail leading to the Puja room.
This is to entice and lead Laxmi into the home and puja room over night.  She is after all, the goddess of wealth, love, prosperity (both material and spiritual), fortune, and the embodiment of beauty. 
Laxmi is definitely a visitor to make very welcome and create sacred space for in your home!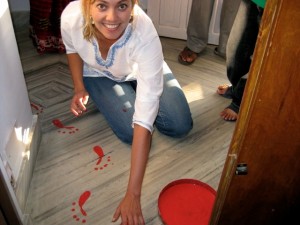 Laxmi puja is not only for households but is equally done by Companies. Business-Laxmi-Puja is done exactly the same way as is done in home. Usually company's cashier performs the puja during which time the entire office including office compounds are lit with various lights including electrical, candle lights, and oil lamps and usually staffs are invited to participate in the puja procession.
On the final day also known as Bhai Tika Day, sisters give tika (a colored powder placed on once's forehead), and mala (a necklace of flowers or also known as as flower leis, similar to that's used elsewhere like in Hawaii!) to brothers along with wishes for long life and prosperity.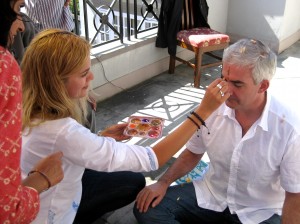 To sisters, Tihar is also the time to re-call their continued wish for a long and a happy life for their brothers. Brothers sit on a floor while sisters perform their puja. Puja involves following a traditional ritual in which sisters circle brothers three times dripping oil on the floor from a copper pitcher.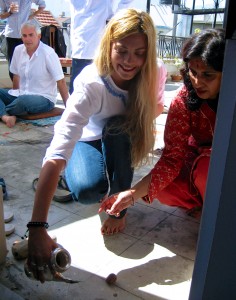 Afterwards, sisters put oil in brother's ears and hairs, then give Tika. Also breaking of walnuts by sisters prior to giving Tika to brothers is also a common practice. Tika starts with placing a banana leave already cut into a line shape placed on brothers forehead held by one of the sisters hand, then applying tika base (made from rice paste) in the open space. Then sister dabs seven colors on top of the base using her fingers. Some may give tika with the help of a small stick or a brush without the using banana leaves. In this case, small stick is dipped into the tika base, then brushed vertically on the forehead, then using a different stick, the seven colors are applied on top of the base. After tika, flower garland is put around brother's neck. Then brothers give tika to sisters in the same fashion.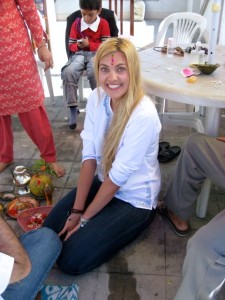 Sisters also receive flower garland around their neck. Brothers give gifts such as clothes or money to sisters while sisters give a special gift known as Sagun (which is made of dried fruits and nuts, and candies), and a fantastic Tihar feast takes place. Those without a sister or brother, join relatives or friends for tika. Sisters pray for their brother's long life to the Hindu God of Death (Yam Raj).
It was such a blessing to be in Nepal at this special time and to be invited to partake in the ceremonies & celebrations.
I was just in heaven getting to learn first hand about the ceremonies performed in the home.  To consider they were happening all around the country at the same time was incredible.
Regular purification, cleansing and invocations in the home are such a lovely traditions and something we are sadly lacking in the West.
Sending you glittering, bright Tihar blessings today and beyond…
Namaste,
Emily xo
Credit: Thank-you to www.nepalvista.com for some of the festival information 🙂