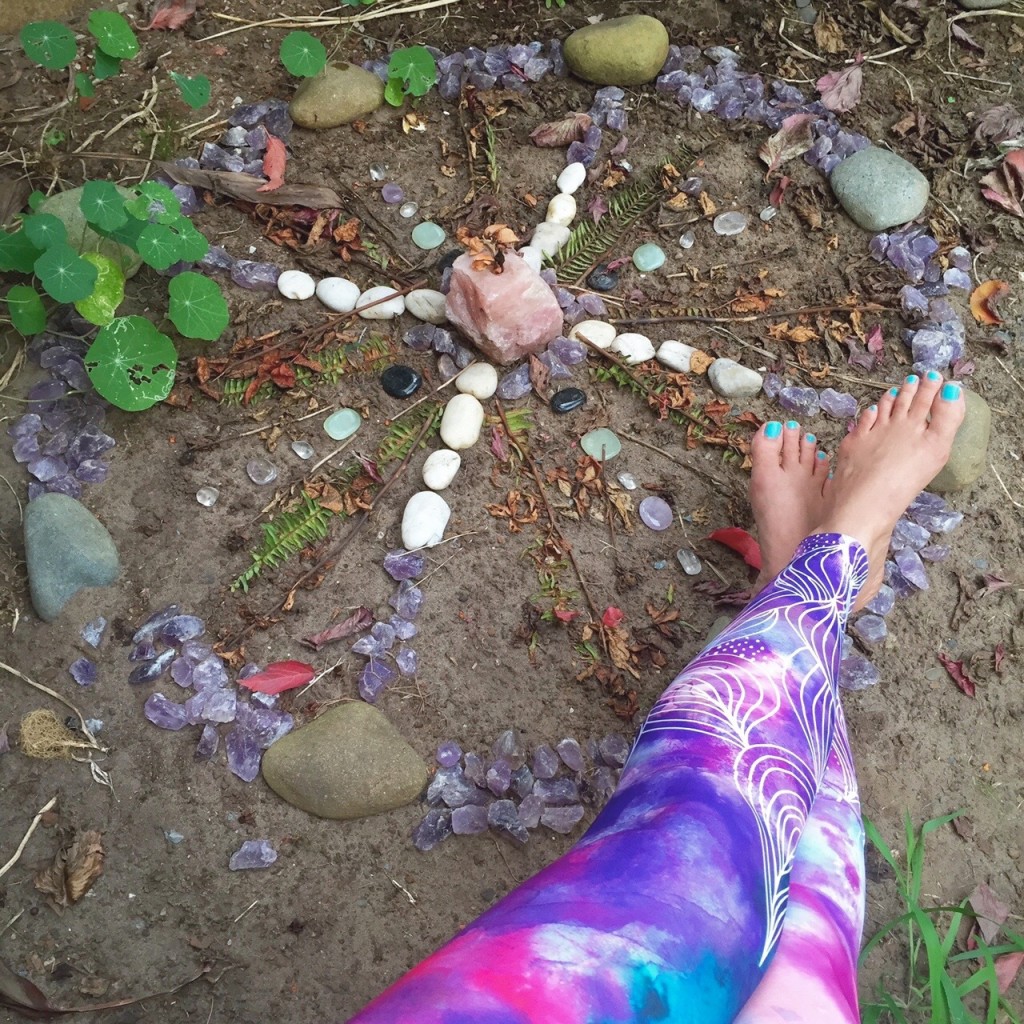 I was recently invited to partake in a beautiful online series created by Carly Marie Dudley called 'Uplift'.  It was a free collaborative series of conscious healing for bereaved parents and hurting hearts over the holiday season – a difficult time of year for many people.
I created and dedicated a medicine wheel for the start of the series.  See here
I often create them, usually in my garden.  I tend to them, taking out any weeds, watching for bugs and critters to wonder through with messages, remove any dying flowers, leaves and sticks etc that may have fallen within the circle.  You know, kinda house keeping within the zone.
In between creations, I usually leave it empty.  The stones and crystals are there, but there is space.  I still weed and watch.  And tend the space.  Until at some point I am called to create again.  Usually aligning with something special, the full moon, someone's birthday, or for a particular intention/prayer related to a world event it.  It is my altar.  A space where I place my prayers out into the cosmos.  Trusting that within the sacred space of the centre, there is a fusion of power from the North, South, East & West…that will propel the prayers and good vibes for the good of all.
After I created one for the start of Uplift, there have been some big events in my life.  Times when I would normally go to my medicine wheel.  One in particular, was after a 3,500km road trip.  After being away for a couple of weeks…I'd normally always create a pretty medicine wheel as a sort of 'yes I am back home', grounding type thing.  Another, which is an on-going journey now has been some significant health challenges for my Mum.  I would normally be tending the circle for my own self care, to replenish myself and it for the journey ahead.
However, this one has been different.
I have hardly touched it since I created it.  I haven't tended.  I haven't weeded, or tided.  I've looked.  I've watched.  I've been aware, I did most definitely NOT forget about it.  But something has stopped me actually going within the sacred circle.
Now I understand why.
As I have watched it over the weeks.  I have pondered what the reaction would be if I posted a photo of it now.
The bright colourful flowers of my fresh creations usually attract a really positive response.
I imagined not as many people would like it.  I imagined it quietly slipping by in cyber space.  Because, you know, it doesn't reach out and grab you and say look at me.  It's not as beautiful as when it started.  Or is it?
To me it is just as, if not more beautiful now.  It is authentic, as there is beauty in the natural process of the earth reclaiming what is hers.
She does it so effortlessly and in doing so, she is nourished and replenished.
In truth, it's a miracle to behold.
Of all the medicine wheels I have created in my garden, this one has taught me the most.
Every single day I have thought about the people around the world it has been holding space for.  The bereaved parents finding their way through difficult seasons of grief and loss.
My prayer has been for mother earth and nature to support and nourish them in this time and beyond.
That they may find the strength and courage to truly come home to their hearts.
That society as a whole may grow to meet and support them more tenderly, where they are.
And that we may all hold each other, as we strive to make sense of and find beauty in ALL of life's seasons…