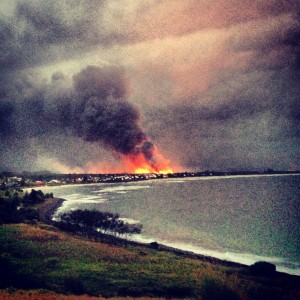 Sitting up at the Point watching flames and smoke loom down on Lennox, I was reminded how our sense of HOME is being challenged at unprecedented levels.
It was a strange feeling.  The last time I had faced bushfire was January 18th 2003 in Canberra.  On that day I was much closer.  Before our eyes, flames 20-30 metres above the height of the pine trees exploded along our street.  Many homes were lost, and sadly four lives as well.  Despite losing our family home we were miraculously safe and considered ourselves very, very lucky.
Later, in researching 'homelessness' I discovered that Habitat, the United Nations Human Settlements Program defined it as:
'An inadequate experience of connectedness with family and or community,'
This confirmed that with the right support it IS possible for those who become 'Suddenly Homeless' to maintain a sense of home within themselves, no matter what is happening around them.
Likewise, anyone who is experiencing life-changing events such as illness, loss of a loved one, divorce etc can find comfort in the shelter of meaningful connection.
These events tend to point us back to the things in our heart that matter the most and we realise it is rarely tangible stuff.
So, apart from immense gratitude and admiration for our Rural Fire Service and everyone who protected properties recently, it is also a chance to reflect on what we as individual's value and can do to cultivate connection in our community.