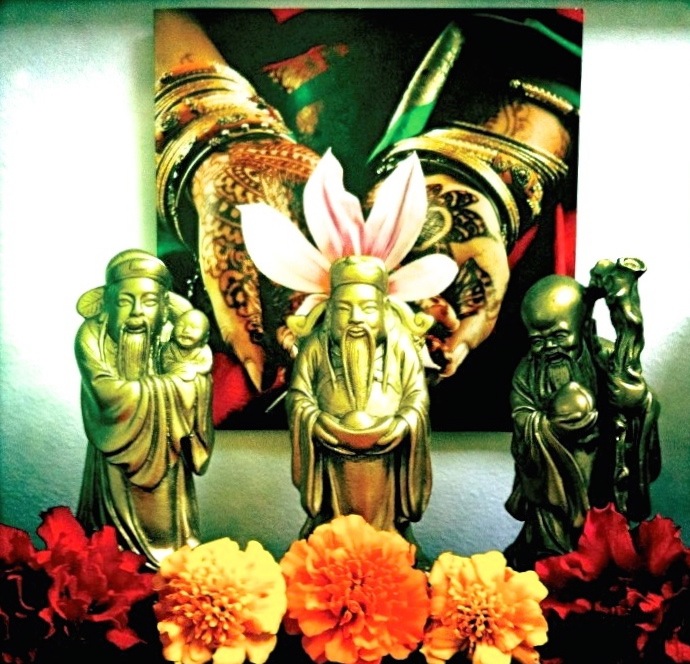 The Three Star Gods are probably the most revered of all the Deities (in feng shui terms) as they represent Health, Wealth and Longevity.  They are normally placed in order of their names with Fu to the left as you face them, Lu in the centre and Sou to the right.
Fu – represents health and family, he carries a scroll or a baby boy.  The Chinese character for Fu is also a charm within itself, as it represents a wish for the Five Blessings of Life, good health, abundance, virtue, long life and a natural death.
Lu – stands in the centre and is easily identified by the two wings on the collar of his robe.  He represents all good things but especially Abundance and his name is featured where ever good luck is required, and on special posters to encourage a prosperous New Year.  He is also identified with or as, Choi San, a God of Wealth.
Sou – known as the South Star of Longevity, he carries a pine walking stick or sceptre, and is usually holding a peach that is the symbol of immortality.  He is sometimes displayed on his own to stimulate a long life.  His birthday is on the first day of the fifth moon and he is believed to offer a special protection during this period.
The three should be placed in a position of honor within the home or business, not below the eye level of the tallest person in the home.  In business they again should be high and overlooking an area where profits are earned.
Source: Lucky Objects in the Ancient Chinese Art of Placement & Feng Shui – Norm Bodkin

Fu Lu &  Sou are the Three Star Gods that refer to the concept of Good Fortune, Prosperity, and Longevity.  They are used in Chinese culture to denote the three attributes of a good life.
Did you enjoy this insight?  Do you have symbols in your home you would like to know more about?
Let me know in the comments below…