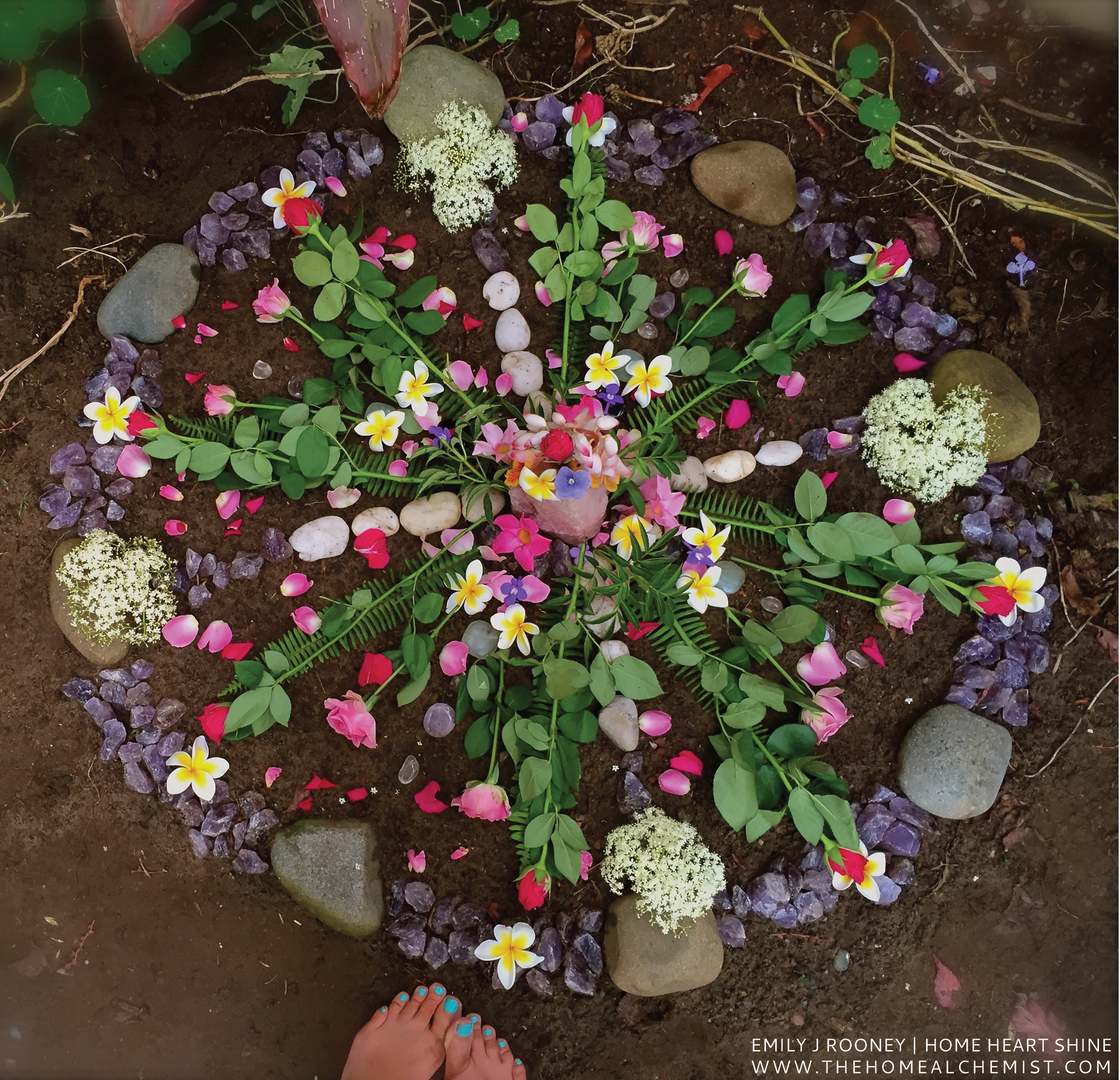 Beginnings are potent.  They energetically set the course for what is to come.  People remember beginnings, and they remember endings.  They may or may not remember the parts in between and in some ways the parts in between are almost irrelevant if the start and end are done really well.
Today marks the beginning of a beautiful heart project by Carly Marie Dudley mother, artist, writer and speaker from Perth, Western Australia.  Carly travels the world sharing her art and giving her mindful heart healing workshops.
Her latest offering is UPLIFT – a free collaborative series of conscious healing for bereaved parents and hurting hearts this holiday season.  The project will be full of inspiration to help lift people's spirits over the next 2 months, especially as it can be a difficult time of year for many people.
And the exciting part is that Carly invited me to be a contributor!
So today, I held ceremony and created this medicine wheel to energetically mark the beginning of UPLIFT.  It will symbolically hold sacred space for everyone who will be participating, and provide a visual anchor, a sanctuary to come home to.
There have been plenty of times in my life that I have been brought to my knees.  That I have felt heart broken and lost.  That I have wondered how I would get through.
Creating medicine wheels became a significant part of my healing process.  They were a way of grounding and finding myself.  Of connecting with nature and finding beauty in the world again.
Over the course of UPLIFT, I look forward to sharing more about how medicine wheels and the sacred space of your home, can support your heart healing.
For now, I offer this simple invitation…
Come Home.

Call Home all parts of your self, that went numb.  

That went into shock.  That shattered.  That splintered.  That shrunk.

Call Home all parts of yourself, you feared were lost forever.

Call in all directions of time and space.

Call to the East.

Call to the North.

Call the West.

Call to the South.

Call back all your heartache, your loss.

Your grief from deep below and pain from high above.

It is time.

For you are supported, surrounded and held in sacred space.

In truth, you always have been.

From the Spirit of the East.

From the Spirit of the North.

From the Spirit of the West.

From the Spirit of the South.

From Grandmother Earth below your every step.

From Grandfather Sky above, and through every breath.

Creator dwells in the centre of this great spinning wheel, 

Where all is transmuted, and

you are already healed.

When you stand in the centre,

of your heart and you call,

All love flows through you and

back out to all.

Come Back.

Come Home here.

Begin again.

UPLIFT your soul.
Join the UPLIFT fb event for updates here